CFRP is turning heads in civil engineering
Engineering firms, research institutes and chemical companies are collaborating to take advantage of the significant benefits of carbon fiber materials.
A groundbreaking railway bridge won German Civil Engineering Award 2022
Elegantly stretching across eight highway lanes without any supporting pillars, the Stuttgart Stadtbahn network arch bridge near Stuttgart, Germany is the world's first railway bridge fully suspended on CFRP (Carbon Fiber Reinforced Plastics) cables and carbon hangers. In 2022, it received the prestigious German Civil Engineering Award for its innovative design, which the jury explained "is an extremely successful example of civil engineering worldwide and provides formative answers to current issues in civil engineering"1.
The CFRP cables and carbon hangers in the bridge offer considerable advantages over comparable steel solutions. They were manufactured with about half the energy and one third the C02 emissions2, their exceptionally low weight enabled manual installation by three workers without a crane2, and they are expected to last around 100 years3 without servicing due to their impressive resistance to corrosion, fatigue, chafing and fire.
Success was achieved through vision, expertise and collaboration
The German Civil Engineering Award went to engineering firm sbp (schlaich bergermann partner), which envisioned and implemented the bridge with support from Empa (Swiss Federal Laboratories for Materials Science and Technology) and Carbo-Link AG. Empa conducted extensive simulations of long-term use and closely examined such factors as cable fatigue, resistance to lightning and the influence of electric fields to obtain government approval for use of carbon materials. Carbo-Link AG, a Swiss company specializing in the design and manufacture of carbon fiber structural elements for high loads, produced the bridge's 72 hangers using high-performance Teijin Tenax™ carbon fiber.
The benefits of carbon materials are driving expanded use in civil engineering
The unrivaled rigidity, corrosion resistance and strength-to-weight ratio of carbon materials are making them increasingly attractive in construction and design. Civil engineers are reinforcing structures with CFRP rebars, strengthening runways with carbon grids, increasing seismic strength with carbon fiber wraps, protecting water treatment systems with CFRP covers, eliminating corrosion concerns by using carbon fiber in place of steel core, and much more4,5. The applications keep expanding and as Dr. Bernd Wohlmann, president of Teijin Carbon Europe GmbH stated, "We are only at the beginning of manifold possibilities."
Teijin welcomes further collaboration in the architecture and construction industry
Teijin is one of the world's leading manufacturers of carbon fiber products and is accelerating the development of applications for carbon fiber in civil engineering. The exceptional quality of Tenax™ carbon fiber, which is manufactured to the highest standards and stringently evaluated to ensure consistent quality, is already driving award-winning innovation.
Collaborative ventures are always welcome at Teijin. As illustrated by the Stuttgart Stadtbahn network arch bridge project, such partnerships can clearly result in better solutions. Join Teijin in a win-win relationship that will benefit your company and the world.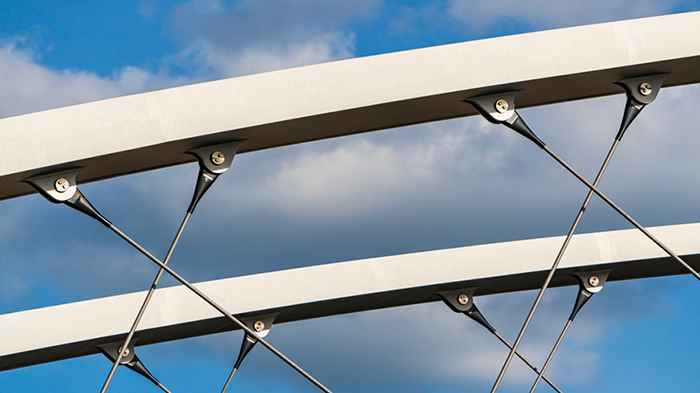 Links
1 Civil Engineering Award for construction art with Swiss contribution
2 A 127-meter-long railway bridge fully suspended on CFRP hangers
3 Composites end markets: Civil infrastructure (2022)
4 Teijin Carbon Fiber Business / Applications / Civil Engineering
5 10th International Conference on FRP Composites in Civil Engineering
2022.09.26