Delivering the carbon neutrality and safety society demands
The car industry is swiftly transitioning to support a decarbonized society. In fact, the European Union (EU) announced it will prohibit the sale of new gasoline, diesel and hybrid vehicles (HVs) from 2035 to accelerate the paradigm shift to "zero-emission" vehicles that emit no CO₂.
However, zero-emission electric and hydrogen fuel cell vehicles are generally 20 to 30% heavier than conventional vehicles – due to battery and hydrogen tank weight – and this increases collision energy. To protect the driver and passengers, as well as high-voltage EV components, carmakers are seeking lighter, more energy-absorbing materials and designs.
Now Hyundai Motor Europe Technical Center and Teijin Automotive Technologies are introducing a promising new solution.
---
Teijin Automotive Technologies and Hyundai Motor Europe Technical Center announced that their "Lightweight Multi-Material Door" concept was named a finalist in the 2022 JEC Innovation Award in the Automotive and Road Transportation Category. This door, featuring a specially-modified, low VOC TCA Ultra Lite® outer panel, a hybrid glass and carbon fiber SMC inner panel, and an innovative steel internal reinforcement ring, is 2.7 kg lighter than a traditional door made from steel.
The aim of this joint development project between Hyundai Motor Europe Technical Center and Teijin Automotive Technologies was to provide a high performance, lightweight vehicle door structure at affordable costs, which is adaptable for differing manufacturing line concepts including both on and off-line painting.
Two innovative composite materials, specifically optimized for this application, were developed within this joint project. The low VOC TCA Ultra Lite used on the outer panel is ideal for body panels, including doors. This E-coat oven capable material offers the ability to achieve unique design cues such as deep draws that can't be achieved with a stamped metal, a Class A finish, and exceptional resistance to corrosion, dents and dings. This low VOC formula meets the increasing requirements for low emissions of volatile organic compounds after standard prime and E-coat oven bake cycles, specifically emitting no benzene, phenol or N-Methyl pyrrolidone post-bake, and just 1-2 ppm of styrene post-bake, depending on the bake process used.
The door's inner panel is molded from a new hybrid glass and carbon fiber SMC material. To provide increased stiffness and strength at an affordable cost, a homogeneous mixture of glass and carbon fibers was used to optimize for molding characteristics while using minimum carbon fiber content for cost optimization.
2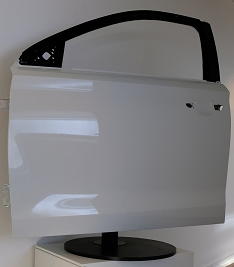 To achieve the required structural performance for a vehicle door, an innovative internal "reinforcement ring" was developed to ensure optimal load paths both for static stiffness and crash resistance.
Together Hyundai Motor Europe Technical Center and Teijin Automotive Technologies undertook a detailed evaluation for the concept development of a lightweight door structure. "We entered into this joint development project to create a high performance, lightweight door structure that was affordable and adaptable to different manufacturing concepts, including both on- and off-line painting," explained Dr. Jerome Coulton, Body Closures expert, Hyundai Motor Europe Technical Center. "We successfully created a concept that meets the Hyundai Motor Group's design and engineering specifications, while achieving a significant weight reduction compared to a steel door, and at a cost suitable for mass production." "Teijin Automotive Technologies is grateful for Hyundai's partnership in this project," said Dr. Marc-Philippe Toitgans, director, Research & Development, Teijin Automotive Technologies. "Through this joint development, we were able to take a concept, manufacture prototypes, conduct extensive testing including trials on a standard Hyundai paint line, and complete a validation phase to ensure that the concept delivers benefits to the end customer."
Following the successful completion of the innovation development and proof of concept phase, this innovation has been put into the portfolio of validated new technologies at the Hyundai Motor Group and is ready to be applied to new vehicles programs.
---
Many countries are implementing policies that promote carbon neutrality and demand greater automotive safety, such as higher impact resistance. New technologies such as those described above may soon lead the automotive industry toward a brighter future.
2022.07.12