Estonia, an innovation pioneer in Europe
Introduction of this article
Estonia is known as the world's most advanced country in information technology, ranks first in the world in the number of start-up companies and unicorn companies per capita. Estonia also has a long relationship with Japan. The year 2021 marks the 100th anniversary of the friendship between Japan and Estonia.
We had the opportunity to interview Mr. Oliver Ait, from the Estonian Embassy in Tokyo, about the secrets of the Estonian start-up ecosystem and the ideal form of collaboration with Estonian start-up companies.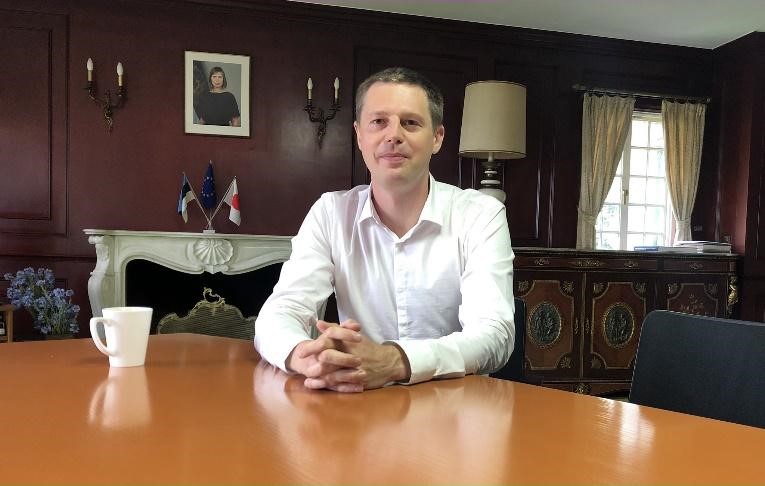 Embassy of the Repubulic of Estonia Mr. Oliver Ait
Background story of this interview
─ Could you tell us about how you became interested in Teijin's Open Innovation activities?
(Mr. Oliver Ait) Thank you again for this interview opportunity. I got introduced by Agorize, a company
that supports open innovation challenges, about your "Innovation challenge for sustainability and well-being produced by Teijin."
About Estonia and it's innovation environment
─ First of all, Oliver-san, please tell us about your role and duties at the Estonian Embassy in Tokyo.
(Mr. Oliver Ait) As a commercial officer at the Estonian Embassy in Tokyo, I support Estonian companies that are considering entering the Japanese market, as well as attracting Japanese companies to invest or do business in Estonia. I am also involved in activities to help people learn more about Estonia, such as introducing the Estonian business, investment environment, and startup ecosystem. For example, we conduct Estonian business seminars and startup-related events, and accompany political and economic delegations when visiting Estonia or coming to Japan. This work helps to strengthen the economic and business relationship between Japan and Estonia.
─ What do you think are the reasons why Estonia is one of the most advanced countries in the world in terms of creating innovation and producing start-up companies?
(Mr. Oliver Ait) The population of Estonia is approximately 1.3 million. In comparison, there are 1300 start-up companies, and the number of unicorn companies per capita is the highest in the world.
From these points, I think you can see that it is easy for entrepreneurs to be born in Estonia.
There are several strengths of Estonia. First of all, 99% of administrative procedures and public service applications can be completed online, and this is why Estonia is said to be the world's most advanced electronic nation. For example, it takes only a few hours to establish a legal entity, and procedures can be completed with electronic services such as electronic tax payment systems and electronic signatures. I think this is one reason why the barriers to accepting digital technologies are not high, as it makes life and business easier by digitizing things that are complicated and timeconsuming for citizens and companies.
Next is education. Based on the OECD's Program for International Student Assessment (PISA*), Estonia ranks at the top level in Europe and even in the world. Since natural resources are limited, Estonia's only resource is its people, its brains.
I also feel that there is a big impact of what we call the "Skype effect." Skype, which you may have heard of or used before, is a service that was born from Estonian developers. First acquired by eBay and now in Microsoft Group, Skype's success has been a source of inspiration and motivation for many young Estonian entrepreneurs. It also gave a significant financial impact on the Estonian startup ecosystem, making it easier for Estonian startups to access more fundraising opportunities. In addition, Skype's founding members are actively sharing their experience and knowledge, and this helped create a supportive community in Estonia.
There are many other factors, but I think the most distinctive ones are that the government, private companies, and university organizations work together not only fostering a startup mindset but also providing support from establishing companies to scaling them up. Under this supportive environment, over 150 programs are available for the Estonian startup ecosystem. Even though the level of education is high, the human resources are the limit with a population of about 1.3 million people; thus, this is an opportunity to promote public-private collaborations.
Information about the Estonian startup ecosystem (Link to external page)
https://startupestonia.ee/startup-ecosystem
The influence of education is a significant factor indeed. I believe that the awareness of the younger generation in Estonia is different from other countries. They believe that they can give some positive impacts or changes on the issues by taking action. Also, they don't look at solving problems as someone else's matter but as their own and take action quickly. I think there are differences between countries and cultures, but I feel that many younger Estonian people have the mindset of "how can I solve this problem using my abilities or skills" rather than "the government will do it anyway" or "others will do it". I think this is strongly connected to the start-up spirit. Think about how we can solve problems and then take action. To achieve the goal or purpose, proactively approach the government or companies to talk about how to work together.
* Unicorn Company:A privately held startup company established within 10 years, and is having a value of over $1 billion.
* PISA:is the OECD's Programme for International Student Assessment. PISA measures 15-yearolds' ability to use their reading, mathematics and science knowledge and skills to meet real-life challenges.
・Ref: https://www.oecd.org/pisa (Link to external page)
2022.01.06