Cost savings and recycling are being prioritized over weight reduction in the automotive industry
Car manufacturers have long struggled to improve fuel efficiency and driving performance by reducing vehicle weight. One of the most effective methods of weight reduction has been multi-materialization, the strategic use of the right materials in the right place. But this seemingly sensible method is recently losing favor.
In this first article of our two-part series on multi-materialization trends in the automotive industry, we examine the background that led to the current stagnation of multi-materialization.
The 2013 release of the BMW i3 in Europe drew significant worldwide attention to the multi-materialization of vehicles. It was BMW's first mass-produced zero emissions vehicle and featured a CFRP (Carbon Fiber Reinforced Plastics ) upper body on an extruded aluminum alloy chassis, resulting in an extremely low vehicle weight of 1,260kg. The i3 was 250 to 360 kilograms lighter than any EV in its class made from a modified gasoline engine vehicle.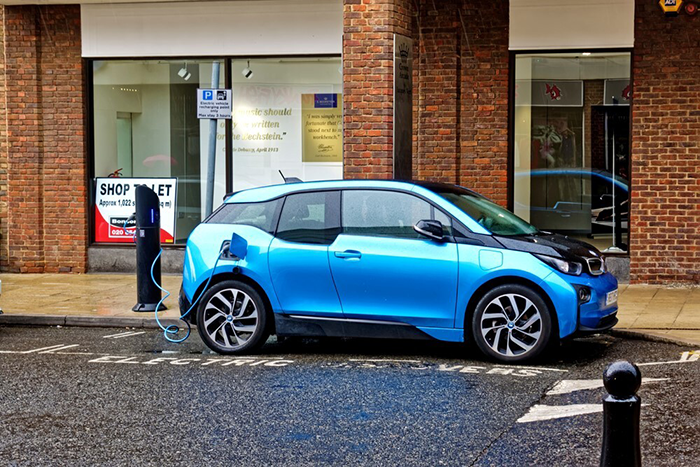 BMW focused on reducing vehicle weight because it extended the maximum driving range of the i3 to 200km when equipped with a 125kW motor and 18.8kWh lithium-ion battery. A 250kg heavier vehicle weight would have reduced the driving range by about 20%. Compensating for this reduction with a higher capacity battery would have cost nearly $3000 since lithium-ion batteries were $600-700 per kWh in 2013 (this is four times what they cost in 2022).
Using CFRP and aluminum alloys to reduce weight was certainly costly, but the weight reduction provided many benefits – including higher performance from the same motor – that justified the higher cost. Trying to extend the driving range by increasing the battery capacity would have increased vehicle weight, requiring additional crash safety measures that would further increase vehicle weight and eliminate driving range gains.
High-end multi-material sedans
BMW introduced highly productive manufacturing facilities to build the i3's body. These facilities utilized RTM (Resin Transfer Molding) to make CFRP parts and new body assembly equipment to bond the CFRP parts with adhesive.
BMW's bold introduction of CFRP in the i3 was big news at the time, but what shocked the industry even more was the introduction of CFRP in gasoline powered vehicles. This was exemplified by the sixth-generation BMW 7 Series launched in 2015, the first mass-produced flagship series with a multi-material body incorporating CFRP. Its Carbon Core body featured steel reinforced with CFRP in the roof side rails, side sills, central tunnel, B-pillars and more to reduce body frame weight by 40 kilograms.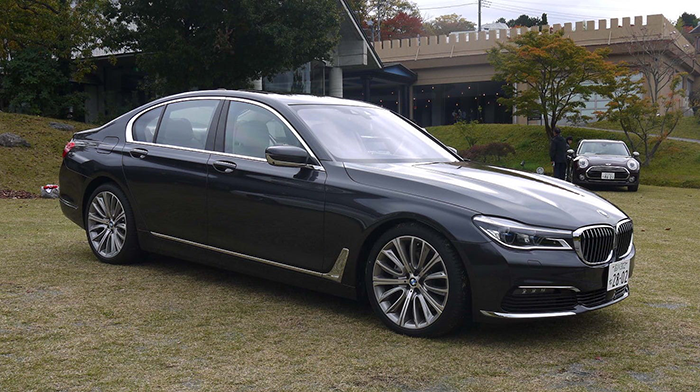 The body of the sixth-generation BMW 7 Series incorporated many CFRP-reinforced steel parts (Photographed by the author)
Moreover, the roof panel, front side frame, strut tower and other components were constructed of aluminum alloy. This multi-material construction combining steel, aluminum and CFRP made the body 140 kilograms lighter than the previous model.
Of course, BMW wasn't the only carmaker promoting multi-materialization. In autumn 2017, Audi released the fourth-generation A8 luxury sedan with press-molded aluminum alloy chassis and other body components made of cast aluminum, extruded aluminum and high-tensile hot-stamped steel strengthened by quenching.
Japanese carmakers also introduced multi-materialization in vehicles such as Honda's second-generation NSX luxury sports car launched in 2016. Its multi-material frame and body featured extruded aluminum frame members, press-molded aluminum stampings, ablation-cast aluminum frame nodes, CFRP floor panels, and lightweight SMC (Sheet Molding Compound) outer panels.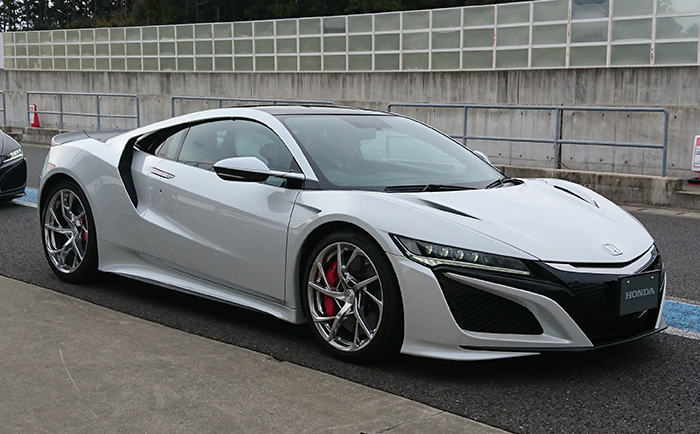 The multi-material frame and body of Honda's second-generation NSX were made of press-molded aluminum, ablation-cast aluminum, CFRP, SMC, etc. (Photographed by the author)
Multi-materialization is stagnating
BMW was the catalyst behind the multi-material boom, but the maker is using fewer new materials in recent models. For example, the new BMW iX features a steel body reinforced by CFRP (as in the sixth-generation 7 Series) rather than an all-CFRP body like the i3. The seventh-generation i7 Sedan announced in April 2022 may also have less CFRP than sixth-generation 7 Series models.
Similarly, Volkswagen, Toyota and Nissan have announced the launch of EV models with the same press-molded steel bodies as their gasoline-powered models. There appear to be two major reasons why multi-materialization is stagnating.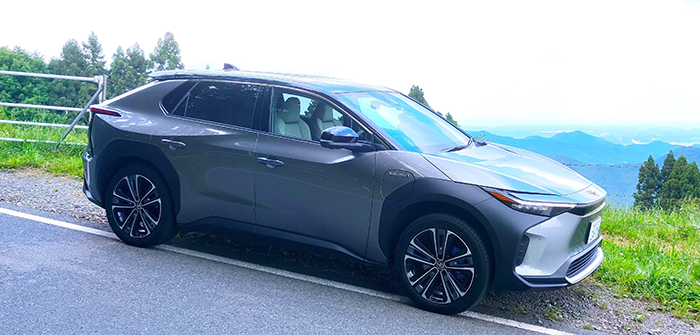 Like many new EVs, the Toyota bZ4X has a steel body similar to those on gasoline-powered cars. (Photographed by the author)
One major reason why multi-materialization is stagnating is the strong demand for cost reduction. EVs currently cost about ¥1 million more than gasoline-powered models in the same class. This substantial price difference is often covered by government subsidies, but makers know such subsidies won't last forever. So they are striving to reduce the cost of EVs by building them on the same platforms as gasoline-powered models, or at least building them on the same production lines, and using versatile materials like stamped steel that are less expensive than aluminum and CFRP.
The second major reason why multi-materialization is stagnating is the falling price of batteries. This seems to contradict the first major reason, but now it's cheaper to extend the driving range by increasing the battery capacity than by using costly CFRP. When the BMW i3 was launched in 2013, lithium-ion batteries cost $600-700 per kWh. But now they cost around $150 per kWh, a 75% decrease.
A third reason why multi-materialization is stagnating is the rise of environmental awareness and much stricter recycling requirements. Difficult-to-recycle CFRP and plastics are generally being shunned in favor of easy-to-recycle steel and aluminum.
While multi-materialization is currently stagnating in the automotive industry, will it flourish in the future? The author believes some exciting new opportunities are opening up. In the second article of this series, we explore the potential of multi-materialization in the new age of electrification.
(Written by Auto Insight Representative Yoshiro Tsuruhara)
2022.08.15