Multi-materialization of vehicles has reached a turning point – 2:Mobility services may drive multi-materialization forward
The first article in our two-part series on multi-materialization trends in the automotive industry focused on current stagnation in multi-materialization due to advances in vehicle electrification, a growing demand for lower costs, recyclability issues, etc. This second article in the series presents the possibility that new mobility service trends will replace weight reduction as the primary driving force behind multi-materialization.
Four current trends in the acronym CASE (Connected, Autonomous, Shared&Services, Electric) are driving each other forward in the automotive industry. Autonomous driving, for example, requires connected technology and greatly benefits from the accelerated response of electrification. Shared services also require connected technology such as the ability to lock/unlock doors and start/stop the engine via smartphone.
Perhaps the ultimate embodiment of CASE in next-generation mobility will be autonomous taxis provided by ride sharing services like Uber in the United States. Such services could significantly lower operating costs by eliminating the need for human drivers. Major carmakers, IT companies, venture companies and parts manufacturers are all competing to position themselves as leaders in this up-and-coming market.
Toyota's dedicated service vehicle inspired the market
Active development of robotic taxis was triggered by Toyota's introduction of e-Pallete Concept at the world's largest consumer electronics exhibition, CES, in January 2018. This autonomous EV with low floor, boxy shape and spacious interior is fully dedicated to mobility services – including the movement of people and products – and was used to transport athletes and participants at the 2021 Tokyo Olympic Games.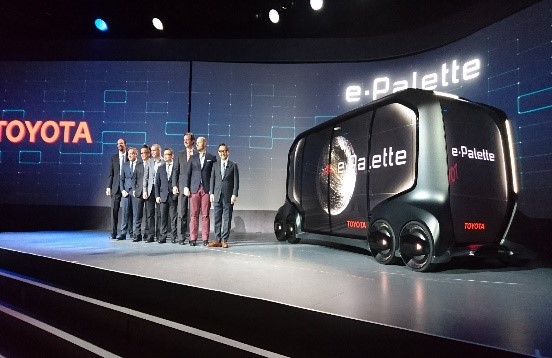 e-Palette Concept, exhibited by Toyota at CES 2018, was a concept vehicle dedicated to mobility services. (Photo by author)
Toyota's CES 2018 exhibit stimulated the market to such an extent that several companies including Bosch, the world's largest maker of automotive components, exhibited autonomous concept vehicles similar to e-Pallete at CES 2019. Many of these vehicles could carry 5 to 6 passengers like e-Pallete Concept. None of them were intended for mass production, but they may become available in various designs for specific purposes and driving conditions. One of the prototypes, produced by open-source autonomous driving software company TIER IV, even featured body parts manufactured by 3D printers.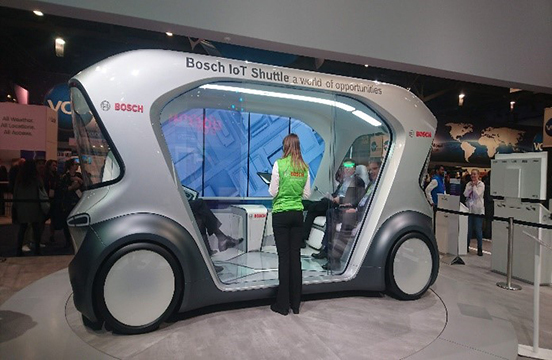 A mobility service concept vehicle exhibited by Bosch at CES in January 2019. (Photo by author)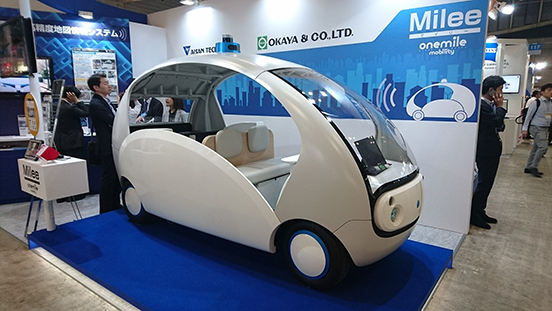 Milee, a prototype autonomous vehicle made by TIER IV, was built on an electric golf cart chassis and featured body parts produced by a 3D printer. (Photo by author)
Separate development and manufacture
In the automotive industry, a single company typically plans, develops and manufactures vehicles because the business model is as simple as "make and sell". But a new "separate development and manufacturing" business model may be coming in the world of service vehicles. Companies creating new mobility services that combine autonomous driving technology, EVs and communications technology are starting to plan and design vehicles suitable for their services and have other companies manufacture and deliver them to spec.
For example, Didi Chuxing Technology, China's largest rideshare company, created specifications for an EV that would complement its services and asked BYD, China's largest EV manufacturer, to produce an EV based on these specifications. The EV isn't autonomous, but it's unprecedented for a finished vehicle manufacturer at the top of the automotive industry pyramid to become a subcontractor for a mobility service company.
Another up-and-coming business model involves the provision of general-purpose EV platforms that customers place desired bodies on. Hon Hai Precision Industry, a Taiwanese company that ranks as the largest EMS (Electronics Manufacturing Service) company in the world and manufactures Apple iPhones in the U.S., developed a general-purpose "MIH" EV platform that it announced will be used for EV contract manufacturing.
General-purpose EV platforms are also being developed by Bosch, the world's largest automotive component manufacturer, and Kia Motor Corporation, a subsidiary of Hyundai Motor Corporation that entered the manufacturing business of customized cars for businesses on a general-purpose EV platform developed by Canoo, a venture company in the U.S. Furthermore, Australian EV venture company AEV Robotics collaborated with Teijin to develop a lightweight general-purpose autonomous driving EV platform called Blanc Robot*1 that features composites and other lightweight materials.

Composite materials make the Blanc Robot general-purpose autonomous EV platform jointly developed by Australian AEV Robotics and Teijin exceptionally lightweight. (Photo by Teijin)
Various types of customized car businesses are expected to arise in the future for mobility services, logistics, etc. The vehicles for these sectors are not likely to feature press-formed steel panels that require mass production. Instead, they will incorporate far more plastics and composites than conventional production vehicles.
New component manufacturing and material technologies cultivated for these vehicles may then find their way back to mass-produced vehicles and drive increased utilization of multi-materialization.
(Written by Auto Insight Representative Yoshiro Tsuruhara)
Reference *1
"Well to Wheel": new index for car development. Intensifying companies' approach toward carbon-neutral society.
Zero Emission New Urban Transportation System (Applied EV)
2022.08.31