Finding clues to Parkinson's disease treatment from walking data analysis
The prevalence of Parkinson's disease is increasing worldwide
Many people around the world suffer from intractable diseases with no definitive treatment. Among these diseases is Parkinson's disease, which is significantly increasing in incidence worldwide as the population ages. The number of patients with Parkinson's disease was 6.9 million in 2015 – more than double that of 1990 – and is expected to reach 14.2 million by 2040.1
In patients with Parkinson's disease, a decrease in dopaminergic neurons in the substantia nigra of the midbrain causes symptoms such as tremors, muscle rigidity, akinesia (absence of movement), hypokinesia (limited movement) and postural dysregulation. The disease may also cause olfactory disorders and psychiatric symptoms such as depression and dementia.
Parkinson's disease is most prevalent in people over 50 years old. In Japan, around 1 to 1.5 people in 1,000 have Parkinson's disease and the incidence increases with age to around 1 in 100 beyond the age of 60.2 In patients younger than 40, it's called juvenile Parkinson's disease. Since the cause of Parkinson's disease is unknown and it's difficult to cure, many people consider it depressingly incurable in Japan where the average lifespan is over 80 years old and many people live to 100.
Quantified dopamine delivery is the key to treatment
Dr. Shingo Shimoda, who conducts Parkinson's disease rehabilitation research at the RIKEN Center for Brain Science, says there is no need to despair over motor control issues because Parkinson's disease is often diagnosed in the early stages long before the onset of walking difficulties.
While the cause of the disease is unknown, the mechanism behind the symptoms is known to be insufficient production of dopamine in the basal ganglia. Therefore, even if the disease cannot be cured, the symptoms can be suppressed by properly administering dopamine to the brain. Such treatment can help patients get along well in their later years.
Diabetes, another disease with symptoms caused by a lack of something in the body, can be controlled by an artificial pancreas. This device combines blood glucose meters, pumps and AI to analyze blood glucose levels and administer the appropriate amount of insulin automatically. Having a similar device automatically administer the right amount of dopamine for treatment of Parkinson's disease would be fantastic, but measuring the amount of dopamine in the brain is not as easy as measuring blood glucose. Dr. Shimoda hopes technology will overcome this challenge.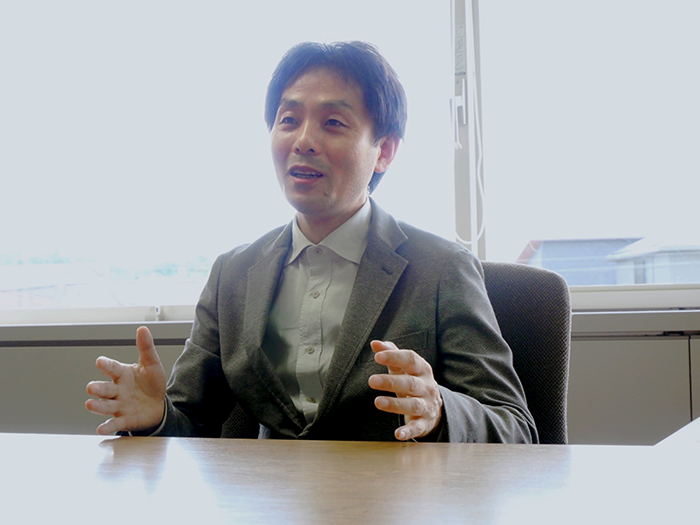 Unraveling the universe by learning from the human brain
Dr. Shimoda, who previously conducted research for JAXA and pursued a career in space development from his high school days, started conducting Parkinson's disease rehabilitation research and studying neuroscience because he believed there was much to learn from the human brain.
"I'm not really interested in space-related business", he says, "but I want to pursue the dreams and romance of space. The most exciting thing possible would be to find extraterrestrial life, but this may require space systems that can make flexible judgments like humans. So I want to learn from our brains to improve space systems," explains Dr. Shimoda. Since AI can't currently match the flexibility of the human brain, he started researching why human brains are capable of such flexible cognition and judgment.
He focused his attention on human locomotion and how it relates to flexible cognition in the human brain. For example, humans can easily walk even in unfamiliar places without knowing whether the terrain is sloped or uneven. Dr. Shimoda presumed this ability to respond flexibly to unknown environments is at the root of flexible intelligence. First he conducted research and development on robots that can walk and perform other human movements to better understand human motor control. Then he presented his research at an academic conference where a chance meeting with a physician in the field of rehabilitation led him to involvement in that field.
Dr. Shimoda fears that researchers aren't very good at making practical things. But he is overjoyed to be helping others and feels he is killing two birds with one stone by working with physicians and medical professionals to help people while also increasing his understanding of human motor control.
An encounter with Touchence revealed the potential of foot data
During a remote palpation medical project, Dr. Shimoda met members of Touchence Inc. (a project partner) who introduced him to Shokac Shoes. These shoes have since become essential for his Parkinson's disease rehabilitation research.
When humans walk, the soles of our feet (which are around 20 centimeters long) interact with the ground and transmit all kinds of information about body movements to our brains. This information can be collected by special measuring instruments to provide important clues on the condition of patients. While measuring instruments on the ground can only obtain data in particular locations, sensors in shoes can collect data wherever patients walk. Such shoes are already available from major shoe manufacturers, but are typically only effective when people move quickly and regularly.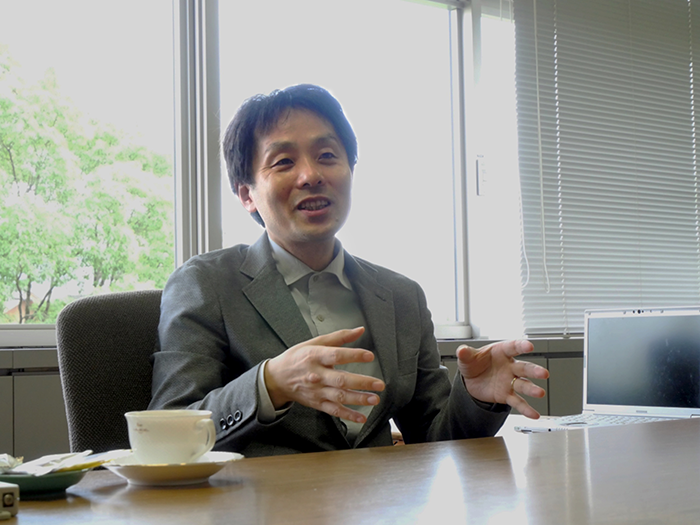 After comparing various products, Dr. Shimoda found that Touchence's 6-axis tactile sensors far surpassed the competition by acquiring remarkably accurate force data on the feet and shoes in multiple axes. Moreover, they perform well during slow-speed walking, stepping, twisting and the shuffling gait associated with Parkinson's disease patients. According to Dr. Shimoda, "Shokac Shoes help us collect various patient gait data that is useful for predicting changes in brain dopamine levels and assists our Parkinson's disease rehabilitation research".
Overseas laboratories have also shown interest in the high performance of Shokac Shoes, which can acquire multimodal gait data from Parkinson's disease patients at a much greater accuracy than thought possible from conventional sensor shoes and insoles. Dr. Shimoda says the shoes have also attracted much attention from researchers involved in other types of studies that require the measurement of foot pressure.
Measurement of shifting weight while a Parkinson's disease patient walks. White circles show the center of weight during weight shifts. Changing colors indicate load.
Looking to the future of space development
Researchers aren't medical doctors, so they can't treat diseases directly. But they can indirectly support treatment by developing systems that make formerly impossible things possible. Robotics and AI are especially good at reaching logical solutions through repeated trial and error, which Dr. Shimoda describes as conscious intelligence. "But this kind of intelligence isn't sufficient in medicine and other fields," he says. "Subconscious intelligence that can't be arrived at through logic is also required. It is mysterious, intriguing and the very essence of human beings."
"What I'm really interested in is space development," Dr. Shimoda reminds us while adding there are things to do before pursuing that directly. His passion for the universe never wanes as he pursues studies every day that are helping people in need.
At first glance, engineering technologies seem unrelated to helping people who are suffering from diseases and disabilities. But they are indeed contributing to the advancement of healthcare and helping people with ailments and disabilities more fully enjoy their lives.
RIKEN Center for Brain Science Intelligent Behavior Control Unit
https://www.riken.jp/en/research/labs/cbs/riken_toyota/intell_behav_ctrl/index.html
Touchence Inc. (Shokac Shoes)
http://touchence.jp/en/products/
Links
1.The Emerging Evidence of the Parkinson Pandemic
2022.08.23