Key trends and innovations in the composite industries at JEC World 2022
Key trends for the composite materials industry
Three key trends for the composite materials industry have been identified at the JEC World 2022.
https://www.jec-world.events/
The first key trend observation is to develop sustainability strategies. While some companies still have considerable shortcomings when considering sustainability in their products, others have a clear structure on how they want to achieve a sustainable path. This diverse picture applies to the level and intensity of strategies too. Nevertheless, it is positive to evaluate that an ever-increasing number of companies consider sustainability and have concrete plans to achieve it.
The second key trend observation is the need for standardization. In several discussions, there was an agreement that a common "product related language" is necessary to further accelerate the composites market. Therefore, the initiatives for standardization are mostly led by industry associations and are necessary for multiple stakeholders. One example of the EuCIA (European Composites Industry Association – https://eucia.eu/ ) is the initiative "Towards a Eurocode for Fiber-Polymer Composite structures." A common language helps to better understand the product details and can provide guidance for further product developments. Differing rules e.g., in the member states of the EU, can be eased by standardization. Standardization can also accelerate the development of more sustainable composites, e.g., when the product code contains clear information on how and what can be recycled.
The third key trend observation is the increasing trend of digitalization. As this trend is neither new nor surprising, the topic and techniques which include matters of digitalization, such as automatization or simulation, have increased in importance. A common preconception that can be confirmed is that digitalization along the entire value chain helps to accelerate sustainability. Therefore, tools like smart engineering, e.g., by SIMUTENCE (https://www.simutence.de/ ), are helping to modernize and drive the material-based industry.
Here are some characteristic companies that respond to the above trends.
CompPair
CompPair manufactures composite materials with HealTech™ technology. HealTech™ technology enables self-healing of the matrix. Pre-pregs (pre-impregnated fibers) are used to produce composites based on carbon and glass reinforcements which can heal themselves and reach initial properties through a process of heating them to 100 to 150°C. For example, scratches and delaminations (damage of the matrix) can easily be repaired up to 60 times by using a heat gun. When damage to the fibers occurs, they can be recycled to form new products (pre-impregnated fibers). The main fields of application are sports, marine, blades for wind turbines, aerospace, automotive and rail applications. More fields can profit from HealTech™ technology. With the help of HealTech™ technology the amount of waste during production is reduced. The products are repairable which extends the lifetime and simplifies recyclability.
https://comppair.ch/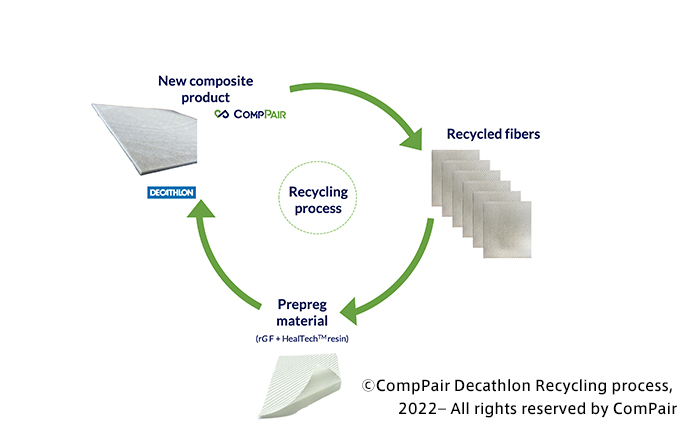 Polyloop
Polyloop offers integrated recycle systems for PVC in container form. In batch mode of operation, the STRAP (solvent-targeted recovery and precipitation) process makes it is possible to separate PVC from other materials such as aluminum or textile fibers. Capacities of up to 500 tons per year are possible. In detail, the processing steps are: (1) pre-treatment (cleaning, crushing), (2) batch dissolution in a rotating drum, (3) filtration of non-dissolved materials, (4) evaporation of the solvent and adding of water, and (5) drying of the recycled PVC. The solution of Polyloop can be applied within the PVC processing industry and reduces the need for landfills which e.g., results in lower GHG emissions.
https://polyloop.fr/?lang=en
Molecular Plasma Group
Molecular Plasma Group specializes in the functionalization of surfaces through plasma technology into an atmospheric low energy plasma. (Bio)molecules like citric acid or even DNA-sequences can be added and activated through the energy of the plasma. The activated molecules are grafted onto a dry surface which is functionalized with the molecules. No solvents, drying or incubation time are necessary to create a covalent bonding of the (bio)molecule onto the surface. Hereby, mono- and multi-layer processing is possible. The technology is suitable to be applied in healthcare, automotive, aerospace, electronics, advanced composites, packaging, or technical textiles. The impact of the technology has a ten to hundred times shorter processing time because of a single process step, resulting in lower energy consumption and, consequently, less GHG emissions.
https://molecularplasmagroup.com/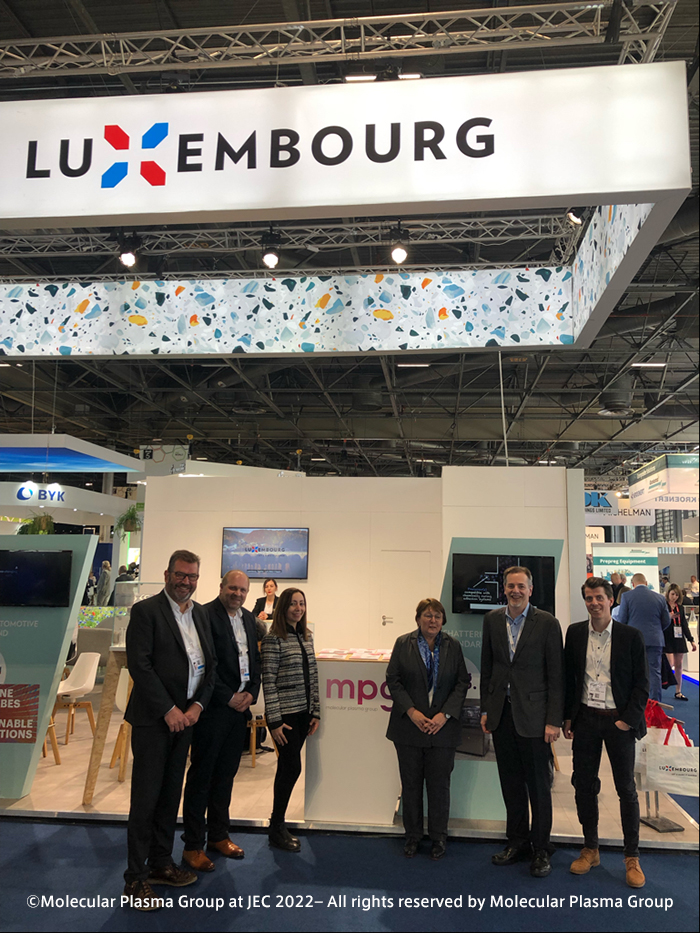 Fairmat
Fairmat's innovative business model helps accelerate the level of sustainability, as they are beginning from where other companies end, e.g., with "end-of-life" products. Fairmat produces panels and molded pieces made of recycled carbon fiber composites. They collect industrial waste predominantly based on carbon fibers, for example from aeronautic or wind power applications as well as other scraps from end-of-life products. Contrary to other recycling technologies like pyrolysis or solvolysis, Fairmat's recycling technology is based on the combination of waste materials to form new products. The original materials are not destroyed in the mostly cold recycling process. All mechanical properties of the carbon fibers are preserved, and degradation of the material is avoided. For the start of the production, Fairmat uses an existing industrial plant from Hexcel in Bouguenais (France). The recycled composite material can be used in e.g., aerospace, automotive, wind energy, for leisure goods, consumer electronics and green construction. For the products (laminate and compounds), only a small amount of new raw material is necessary and within the cold recycling technology, GHG emissions are reduced, and a circular economy is established.
https://www.fairmat.tech/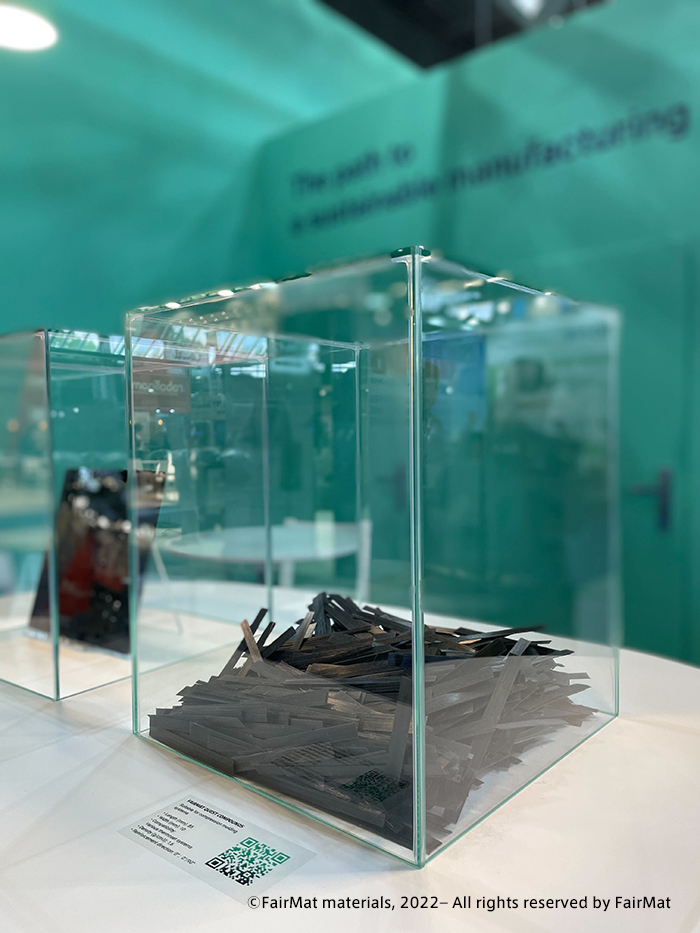 Sustainable solutions for the composite materials industry
The path for composites to become more sustainable is complex and diverse. In general, we can differentiate between the use of e.g., biobased materials or materials made from recycled products and solutions, such as using lightweight materials or materials for a better performance of sustainable technology, e.g., electric vehicles (EV). Some companies have a high focus on offering sustainable solutions, others have a clear focus on price and functionality and only think of sustainability as a secondary interest. The optimal combination to achieve the highest value would be to evaluate price, functionality, and sustainability together as a triangle.
When thinking about sustainability it is important for companies to actively consider all products and materials within the entire value chain. A product which consists of 100 percent recycled PET bottles is a good approach (e.g., a high-tech foam by Armacell – https://local.armacell.com/en/armapet/ ) and solves the problem of the raw material basis. The next step could be a solution for the end-of-life scenario which is not based on burning after use or landfilling. Consequently, it is necessary to keep track of the materials and products even after they are sold.
Another solution for sustainability is to change the design of the products from the beginning for an easier application within the circular economy after their end-of-life.
As a first summary, while sustainability was familiar to most of the companies, the actions and knowledge of circular economy was rather low. While recycled materials are already used as material inputs, the closed loop is not considered in the end. Companies such as FairmMat are trying to support the idea of circular economy in using end-of-life products for their own products including taking full control of their logistics. Keeping track of the products and designing products for a possible use within a circular value chain can both be achieved by means of digitalization.
Other than considering the material itself, the approach using lightweight materials for saving fuel and reducing emissions, is also sustainable. Likewise composites which drive efficiency in technology, e.g., EV's help accelerating sustainability. Considering the recyclability of the material components itself could improve the products' "sustainability score".
These approaches, using sustainable materials and producing efficient materials have also been a part of the panel debate on May 5, "Applications of composite materials for circularity: Towards a net-zero world", in which a group of experts elaborated the potentials and challenges of composites in the context of sustainability and circularity. The main outcomes and statements of the panel discussions were:
– Composites are very durable but difficult to recycle, which makes them challenging for the circular economy. New technologies for higher efficient recycling need to be developed.
– Composites save a lot of weight, wherefore they can reduce up to 60 percent CO2.
– Set standards continue to be absent for composites. In certain sectors, e.g., the construction industry, standardization is a key element. No available standards for composites are blocking the use of composites in the construction sector.
– The legislation from politicians is faster than the industry reacts, e.g., the chemical industry needs time. Changes in the chemical industry have a long timeframe and need to be communicated up to years in advance.
– Circularity brings challenges in value and supply chains. Products need to be designed for sustainability, e.g., for reuse.
– There was a common opinion that cross-industry solutions and collaborations are a key to address the circular economy. A key for cross-industry solutions is trust ability.
The opinions on direct social impacts through composite solutions have been reserved. The lack of legislation has been mentioned. Composites could act as a substitute in regions where products like steel or other materials are becoming rare. Social aspects of composites are not primarily considered.
A company which includes social aspects is R*Concept (https://livingrconcept.com/ ). Alongside their sustainable product range (bio-based materials, zero landfill, creating downstream value, cradle-to-cradle solutions) of resins and reinforcements (fabrics) for composite manufacturing, their aim is to create social impact and to raise awareness. The R in the company's name stands for Respect, which they set as a base for all stakeholders in the composite's ecosystem.
What's next?
The JEC World 2022 has shown us that sustainability is an important topic and difficult for companies to ignore nowadays. The customers' sense for sustainable products, the need for lighter materials to save costs, the political pressure, and regulations, all drive new product innovations for sustainability. Even if the technology itself is a focal point, they are all to a certain level sustainable. For the future, new technologies must think matters of sustainability from the outset to promote and accelerate a circular economy. New solutions and new business models must be created to solve existing problems of composites, like long switching periods in the chemical sector, material requirements for specific goods or to close existing (logistical) problems. Innovations can help with the creation of future products that are cost-efficient, functional, light, and sustainable along the entire value chain. Sometimes, solutions inspired by nature can have advantages for future developments of products and technologies. The honeycomb structure is already well established. At the JEC World 2022, Helicoid Industries (https://www.helicoidind.com/ ) presented biomimetic composites that are inspired by the mantis shrimp. Perhaps nature does in fact hold further clues and treasures that can inspire us to innovate.
2022.06.15