How a new thermoset material is making green cars even greener
Vehicles are becoming cleaner and more fuel efficient, but carmakers need more sustainable materials to achieve their ambitious decarbonization goals.
The automotive industry is producing greener vehicles
New vehicles powered by internal combustion engines are cleaner and more fuel efficient than ever before1 thanks to more refined engine technology, lighter structural composites and various other advances. Hybrids and EVs are also advancing and comprise a growing percentage of newly produced vehicles, which bodes well for the future. However, the automotive industry accounted for around 77% of global transportation CO2 emissions in 2020 and continues to significantly impact the environment2.
More sustainable materials are required to achieve decarbonization goals
Many carmakers have committed to achieving increasingly stringent decarbonization goals over the next several years in anticipation of stricter environmental regulations. The 2030 Climate Target Plan of the European Commission already calls for a reduction in greenhouse gas emissions to at least 55% below 1990 levels by 20303. Moreover, newly revised CAFE (Corporate Average Fuel Economy) standards in California require an 8% annual increase in fuel efficiency for 2024 and 2025 model passenger cars and light trucks, followed by a 10% increase in 2026 models4.
Since improvements in vehicle performance may not be enough to meet coming emission requirements, many carmakers are striving to further reduce emissions by using more sustainable materials during production. Thermoplastic, for example, can cheaply and repeatedly be recycled by simply melting it at high temperature and remolding it for reuse. Thermoplastic vehicle components are increasingly being recycled and the European Commission may release a revised End-of-Life Vehicles directive in 20225 containing mandatory targets for recycled thermoplastics as high as 25% by 20256.
While thermoplastic is easy to recycle, it isn't as strong or useful for structural applications as thermoset plastic, which is currently difficult and expensive to recycle because its polymers contain chemical bonds that don't easily melt. Most end-of-life thermoset plastic vehicle components are incinerated or disposed of in landfills because they are so troublesome to recycle, and this only increases CO2 emissions.
Carmakers are searching for easier and more inexpensive ways to recycle thermoset plastic components since they are so useful in vehicles. But their efforts have so far yielded unsatisfactory results. For example, special thermoset polymers with thermally reversible bonds have been explored as an alternative because they offer easier recycling. Unfortunately, they also lack thermal robustness and can't be used near engine components or in prolonged direct sunlight.
A new idea may revolutionize thermoset component recycling
In 2021, two senior material scientists at Teijin Automotive Technologies (TAT) proposed a method of redesigning thermosets on the molecular level to simplify recycling while maintaining thermal and mechanical robustness7. Using this method, they could replace the styrene monomer in a traditional unsaturated polyester, for example, with an alternative polymer whose chemical bonds break at room temperature in the presence of a catalyst. Then the bonds could be restored by simply removing the catalyst to allow reuse of the polymer and fiber for the same application.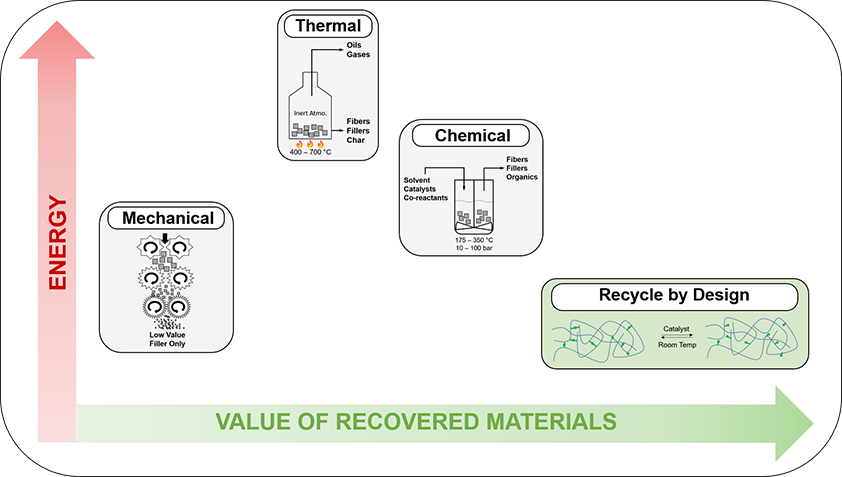 Current thermoset polymer composite recycling techniques require high energy input to produce recovered materials of reduced value. TAT is developing an innovative new solution that produces recovered materials of high value with minimal energy input.
The team has already proven the fundamental science, verified market demand and found potential suppliers. Now it is evaluating alternative bonds and optimizing the recycling process for epoxies. In the next phase, it will conduct molding trials and optimize equipment with the goal of ultimately launching production scale recycling.
If successful, this project will produce the world's first commercially available easy-to-recycle thermoset material that is mechanically and thermally robust. Moreover, TAT will be able to mold a majority of its vehicle components in an extremely efficient closed loop recycling process that decreases the need for virgin materials, reduces production energy requirements, lowers the environmental impact of customers' supply chains, and helps achieve the company's long-term sustainability goals.
TAT welcomes collaboration on greener automotive solutions
Several carmakers have already approached TAT regarding the potential of this new thermoset material to support their recycling and sustainability efforts. Since stringent emission target dates are fast approaching and increasingly severe regulations are likely in coming years, demand for such an environmentally friendly solution will continue to grow.
TAT is always eager to collaborate in its efforts to create better solutions for carmakers. Established through the merger of five European, American, Chinese and Japanese organizations, TAT has made the most of its diverse strengths – together with those of Teijin – to become a global leader in composite materials and solutions for the mobility industry8.
Join TAT in providing advanced materials solutions for the next generation of mobility.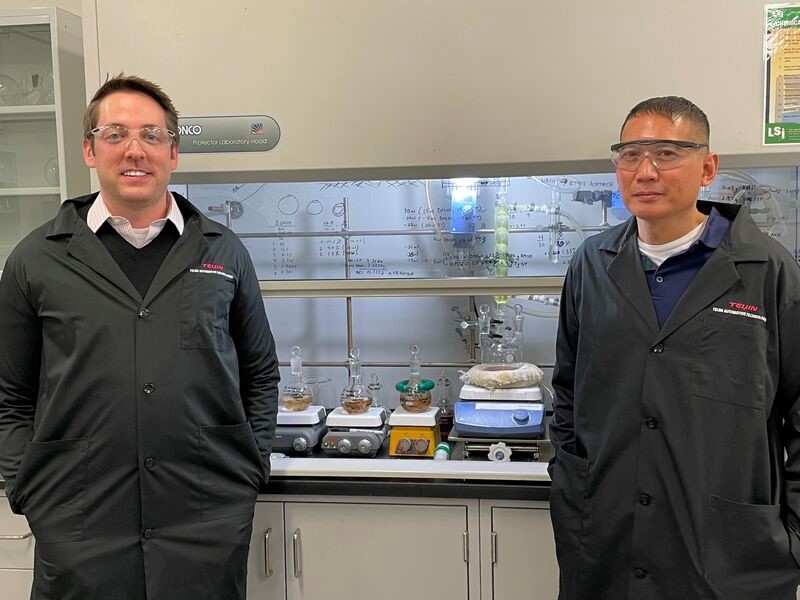 The innovative new thermoset polymer composite recycling solution was proposed by David Krug, Ph.D. (left) and Michael Z. Asuncion, Ph.D. (right), senior material scientists at TAT who are now leading a project to develop the solution.
Links
1 2021 EPA Automotive Trends Report (Executive Summary)
2 VISION 2050: A STRATEGY TO DECARBONIZE THE GLOBAL TRANSPORT SECTOR BY MID-CENTURY
3 European Commission Climate Target Plan
4 NHTSA (National Highway Traffic Safety Administration) Corporate Average Fuel Economy
5 European Commission / Environment / End-of-Life Vehicles
6 Car industry unconvinced by calls for mandatory recycled plastic target
7 Designing Ease of Recyclability into Thermoset Composites by Introducing Labile Functionalities into the Polymer Structure
8 Five Strong Organizations Rebranded to form Teijin Automotive Technologies
2022.05.25