A challenge to the world food loss – The key is up-cycle of surplus food
Every year, 1.3 billion tons of world's food lost or wasted
Why does the world have very contrasting problems – food that is lost or wasted and starvation? According to a 2020 United Nations report, it is estimated that the number of people suffering from starvation reached about 690 million in 2019, which was 10 million higher than that in 2018, and increased by nearly 60 million in the five years from 2013(*1)
On the other hand, we are generating a huge amount of food that is lost or wasted. According to a report by the Food and Agriculture Organization of the United Nations, about 1.3 billion tons of food is lost or wasted every year in the world, which is one-third of the world's food production. Moreover, this is not just an issue for developed countries. Food lost or wasted is also generated in developing countries due to problems with harvesting technology and hygiene management of stores and storage.
CRUST Group (CEO: Travinder Singh), a Singapore-based Food Tech company, fights such food loss or waste through upcycling by adding value to lost or wasted food . Upcycling is a method to upgrade lost or wasted food (discarded but otherwise edible food) by reincarnating it as other products through adding new value such as novel designs and ideas.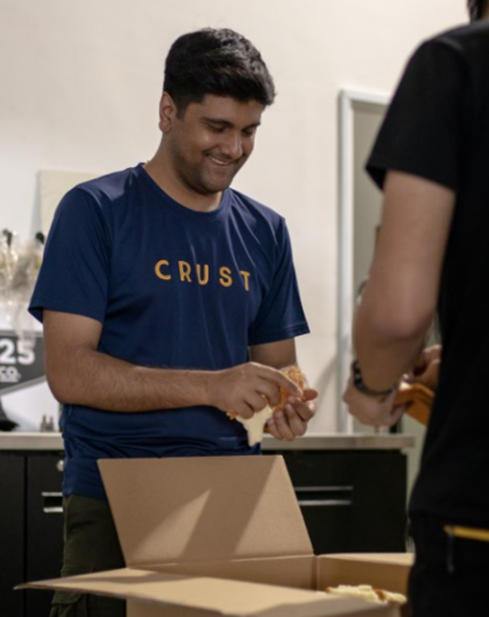 Mr. Travinder Singh / CRUST Group Founder & CEO
The CRUST Group started when a former Singaporean marine Mr. Travinder Singh found a large amount of bread discarded in the city and discovered the idea of using it as a raw material for beer brewing. The company, which was founded in 2019 with the aim of creating a business that can contribute to society rather than just pursuing profits, has a basic philosophy of improving the environment by upcycling lost or wasted food into delicious products. The company's mission is to reduce food that is lost or wasted globally by one percent by 2030. Currently, in cooperation with partners in the food service industry and retail industry, they are collecting surplus bread, fruits, vegetables, etc. and upcycling them into craft beer and non-alcoholic beverages. The company name CRUST is derived from an English word that refers to the hard outer surface of bread, which is usually discarded by restaurants and cafes.
Already, their headquarters in Singapore has been promoting their sustainable craft beer by collaborating with major hotels such as Marina Bay Sands and other restaurant chains. The company was also selected as a finalist in the Start Up Boot Camp 2020 and Hack Award 2021.
Aims to reduce food that is lost or wasted in Japan, amounting to about six million tons every year
The CRUST Group established its Japanese subsidiary CRUST JAPAN in February 2021 as its first overseas development, and is focusing on the expansion of its business. Mr. Hiroki Yoshida, General Manager of CRUST JAPAN, explains the reason for their expansion, "Japan is a country where a customer-first culture is firmly rooted, and it is believed that being out of stock or sold out should never be allowed. That is why food surpluses tend to occur, causing a great deal of food that is lost or wasted." According to the Ministry of Agriculture, Forestry and Fisheries of Japan, the scale of food lost or wasted in Japan reached about six million tons in 2018.
In fact, upcycling of lost or wasted food needs to overcome the high barriers to collecting surplus food. Mr. Yoshida points out, "It is actually easier to throw away surplus food than give it to someone. In the first place, Japanese people are not very upcycling-conscious, and even a Japanese term that means food lost or wasted tends to be confused with a term that means inedible food waste."
Highly evaluated for attainment of both social benefits and fine taste
CRUST JAPAN gained the cooperation of bread manufacturers and craft beer makers in Japan through repeated detailed explanations and released CRUST PILSNER in March 2021, which was made from surplus bread from manufacturers' factories. In July 2021, they made a full-scale entry into the Japanese craft beer market with the release of CRUST LAGER, the first sustainable craft beer in Japan. Currently, CRUST LAGER is sold through CRUST's online shop (https://www.crust-group.com/sg ) and is also available at a beer house in EKIZO Kobe Sannomiya in Kobe City, Hyogo Prefecture.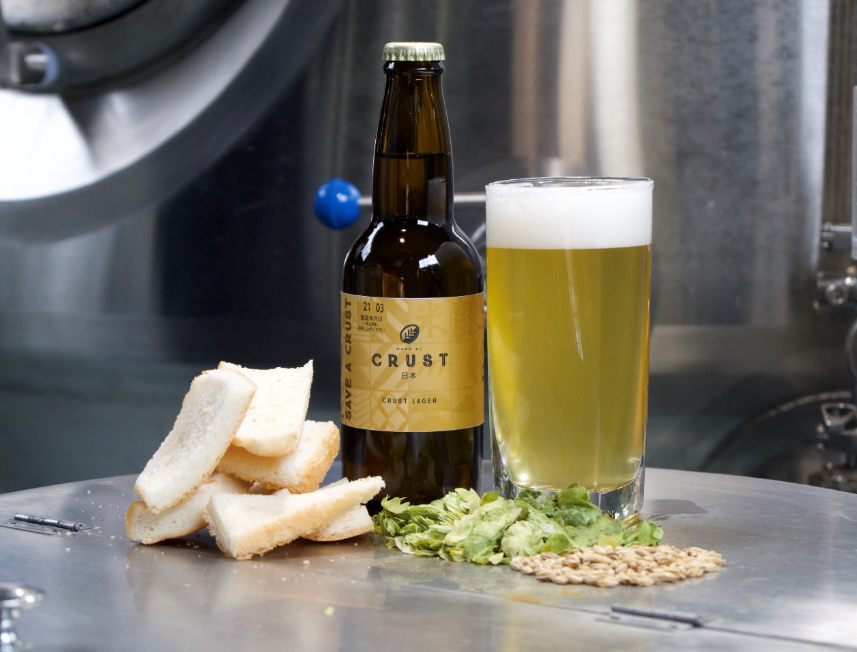 In addition, they use surplus bread from the global boulangerie Maison Kayser, which has about 30 stores in Japan, and developed a craft beer "Pan Kara Tsukutta Pale Ale" (Pale Ale Made from Bread) through a collaboration model with Maison Kayser, Café Company, Leave A Nest, and Vector Brewing. Furthermore, they have collaborated with two world-famous hotel brands which are yet to be announced.
Although its craft beer has just entered the Japanese market, it is highly popular there. This is due to the upcycling process and high-level brewing technology cultivated at its headquarters in Singapore. Mr. Yoshida says with confidence, "For Japanese consumers, who have a very discerning palate, simply having sustainability and social benefits is not enough. Against such a background, I feel there has been a great response owing to the fact that the chefs and sommeliers of Maison Kayser and famous hotels have accepted our products. This proves that our products have both social benefits and fine taste."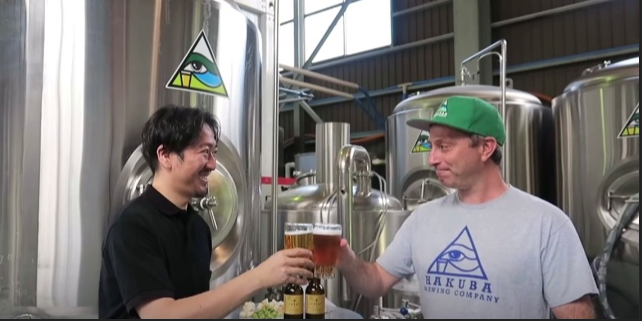 Mr. Hiroki Yoshida (left) / General Manager of CRUST JAPAN
CRUST also developing non-alcoholic beverages
CRUST JAPAN is about to advance to the next stage in 2022. It plans to expand its business to upcycling out-of-specification and rejected fruits and vegetables for non-alcoholic beverages with the cooperation of National Federation of Agricultural Cooperative Associations. In addition, they plan to develop not only beverages but also foods, such as pancake mixes made from by-products generated in beer brewing.
Furthermore, Mr. Yoshida mentions the possibility of collaboration with major companies, "In 2022, we plan to release CROP brand non-alcoholic beverages. In addition to being socially beneficial and having a fine taste, we would like to add health benefits such as lactic acid bacteria. We would like to provide consumers with a new-sensation drink that is good for both the global environment and human health. After all, projects with major companies are indispensable in order to achieve our mission to reduce food that is lost or wasted globally by one percent by 2030." The company has also expressed a willingness to collaborate with Teijin, which has functional food materials such as Burley Max super barley and Inulia fermentable dietary fiber.
Product presentations that change consumer awareness are important
Mr. Yoshida says that it is important to have consumers recognize the problem of food loss or waste and understand it as their own problem in order to reduce such food loss or waste. The Ministry of Agriculture, Forestry and Fisheries of Japan set a goal of halving food that is lost or wasted by 2030 compared to that in 2000 (5.47 million tons). However, the problem of lost or wasted food is still poorly understood today in Japan. Mr. Yoshida emphasizes, "Overseas, supermarkets have product shelves exclusively for products that promote SDGs or are made by upcycling of food that is lost or wasted. Efforts to devise ways to sell and display products are very important. I believe that as such efforts progress, consumers' consciousness will change so that they select socially-beneficial products made by upcycling of food that is lost or wasted."
The CRUST Group's global goal of reducing food that is lost or wasted by one percent is a huge mission. Mr. Yoshida says that this must be achieved, not just set. "Japanese people, on an individual basis, have always been active in recycling because of their MOTTAINAI spirit (spirit not to waste anything). I am convinced that they have a national character with a mindset to reduce food that is lost or wasted," he emphasizes.
If the number of companies like the CRUST Group increases, its mission of reducing food that lost or wasted globally by one percent may make great strides. Mr. Yoshida says, "We would like more companies to enter the upcycling market. If 10 companies enter the market, food that is lost or wasted globally may be reduced by 10%. Rather than seeing them as competitors, we believe that they can accelerate the speed needed to accomplish our mission."
While reducing food that is lost or wasted requires companies involved in food distribution to take on this challenge, progress may be difficult if consumers don't have the right awareness. We will keep an eye on how the Japanese MOTTAINAI spirit and the CRUST Group's efforts advance to solve the problem of food that is lost or wasted.
Beer manufacturing process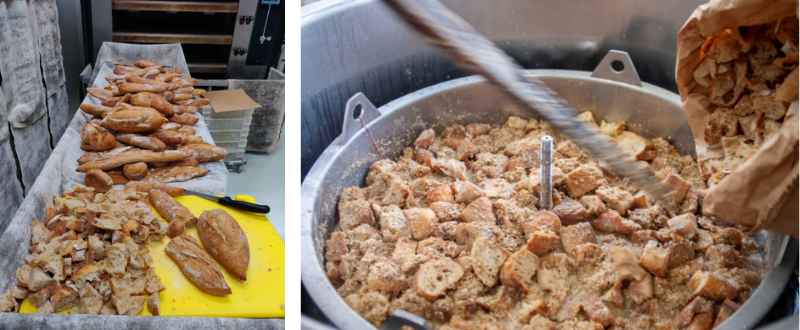 *1: Data from "2020 The State of Food Security and Nutrition in the World"
https://www.env.go.jp/en/headline/2515.html
https://www.maff.go.jp/j/pr/aff/2010/spe1_01.html
(Link to external page)
Mr. Hiroki Yoshida
General Manager of CRUST JAPAN
https://www.crust-group.com/ (Link to external page)
2022.06.21